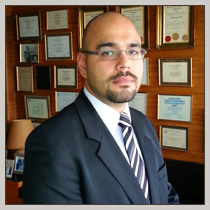 Born: Guatemala City in 1985.
Languages: Spanish (native), english and french (fluid written and spoken).
EDUCATION
Rafael Landivar University, Guatemala (Lawyer and Notary, 2011)
Universidad Rafael Landivar (degree in juridical and social sciences, 2011)
Centro Univesitario Villanueva affiliated with the Complutense University of Madrid, (Master Degree in Counseling and Family Education, 2013)
San Carlos de Guatemala University (currently studying a Master in Labour and Social Security Laws, 2014-2015).
Author: "Structure and Fundamental Areas of Central America Integration System", 2011
"Electoral Systems", 2013
"Central America Integration Handbook" (co-author), 2014.
LEGAL PRACTICE
Labour Law.
Civil and Business law.
Public Notary.
MEMBER
 Guatemalan Bar Association, (Accepted 2012)
[contact-form-7 404 "Not Found"]